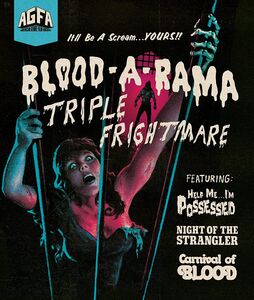 Blood-A-Rama Triple Frightmare
Release

2021-12-28

Film and TV Genre

Horror

Media Format

Blu-ray

Please be advised. Unless otherwise stated, all BLU-RAY are REGION A and all DVD are REGION 1 encoding. Before purchasing, please ensure that your equipment can playback these regions. For more information on region encoding, please click the link below:
Product Notes
Includes: Carnival Of Blood (1970)Shot at Coney Island, this exploitation gem from Leonard Kirtman (aka XXX filmmaker Leon Gucci) follows a demented carnie worker (Earle Edgerton) and his hunchbacked aide (a pre-"Rocky" Burt Young) who are responsible for a string of nasty murders in and around the midway. Judith Resnick also stars. 87 min. C/Rtg: PG Night Of The Strangler (1972)A college coed visiting her Louisiana family is rejected by her bigoted brother after revealing she's pregnant and the father-to-be is a black man. After both she and her boyfriend are murdered, her other sibling and an African-American priest try to find out who's responsible, but more killings rock the community. Ex-Monkee Micky Dolenz, Chuck Patterson, and Michael Anthony star in this sordid mix of race drama and psycho-thriller. 90 min. C/Rtg: R THelp Me... I'm Possessed (1974)In his remote, desert-set sanitarium, a less than kindly psychiatrist (Bill Greer) performs all manner of perverse experiments on his unlucky patients, as his hunchbacked assistant (Pierre Agostino) happily mutilates the leftover corpses and his insane sister (Lynne Marta) looses a monster on anybody asking too many questions. Low-budget shockar also stars Deedy Peters, Blackie Hunt. 79 min. C/Rtg: PG Widescreen; Soundtrack: English; Subtitles: English (SDH); theatrical trailers; more.
Description
| | |
| --- | --- |
| Title: | Blood-A-Rama Triple Frightmare |
| Genre: | Horror |
| Starring: | Burt Young |
| Studio: | American Genre Film |
| Release Date: | 2021-12-28 |
| Media Format: | Blu-ray |
| Rated: | NR |
| UPC: | 814456023786 |
| Original Language: | ENG |
| Subtitles: | ENG |
| Run Time: | 266 minutes |